Return to News
Christmas shopping / Siopa 'Dolig
Sun 15th November
Christmas is coming, whatever form it takes under the current Covid restrictions, and that all important festive shop needs to be done.
To avoid the worries of travel, queuing and social distancing, virtual shopping is a great option and for Ponty supporters the club's on-line shop should be the first port of call.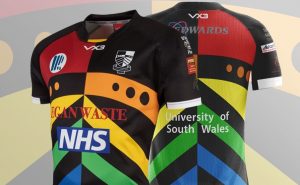 The brand new VX3 club shop was recently launched with a wide range of supporters' kit, leisure and training wear on sale, all of the highest quality and at competitive prices.
The unique new rainbow shirts have proved hugely popular and are on sale, along with a wide range of products from facemasks to kit bags to winter coats to polo shirts to bobble hats and so much more. If its too difficult to choose then discount 'winter bundles' or gift vouchers are the answer.
The VX3 store is stocked up and business is expected to be brisk – to avoid disappointment on your festive shopping the advice is to get your orders in early.
There is something for everyone in the on-line shop and the ideal Christmas present for the dedicated Ponty supporter is there, whatever your choice.
Mae'r Nadolig ar ddod, pa bynnag fath wyl fydd hi dan y cyfyngiadau Covid, ac mae angen mynd ati i gwblhau'r siopa tymhorol holl bwysig.
I osgoi'r gofid o deithio, y ciwio a'r gwahanu cymdeithasol, mae siopa rhithiol yn ddewis da ac i gefnogwyr CR Pontypridd, siop ar-lein y clwb fydd yr ymweliad cyntaf.
Lawnsiwyd y siop VX3 newydd yn ddiweddar gyda dewis eang o grysau cefnogwyr, dillad hamdden ac ymarfer ar gael, i gyd o'r safon uchaf ac am brisiau rhesymol.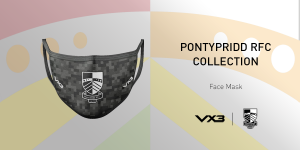 Mae'r crysau enfys unigryw eisioes yn gwerthu'n dda, ac ar gael o'r siop ynghyd ac ystod eang o gynnyrch o fygydau i fagiau cit i gotiau gaeaf i grysau polo i hetiau gwlan a llawer mwy. Os yw'r dewis yn anodd yna 'bwndeli gaeaf' neu dalebion anrheg yw'r ateb.
Mae storfa VX3 yn llawn a'r disgwyl yw y bydd busnes yn brysur – i osgoi siomiant ar eich siopa Nadolig y cyngor yw i archebu mewn da bryd.
Mae rhywbeth ar gyfer pawb yn y siop ar-lein ac mae'r anrheg delfrydol i'r cefnogwr Ponty pybyr yno, beth bynnag fo'r dewis.