Return to News
Bernard Hedges – the player from Ponty
Mon 9th September
On Monday evening 23d September at 7pm a special event will be held at Pontypridd RFC launching the biography of a former club player, and one of the greatest ever Glamorgan cricketers – Bernard Hedges.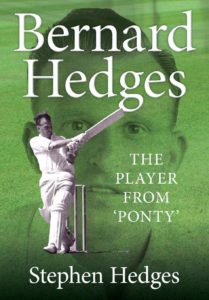 'Bernard Hedges – the player from Ponty' written by Bernard's son Stephen and  published by St David's Press, is the biography of a talented sportsman who played rugby for Pontypridd and Swansea, represented a Great Britain side at football and became a widely respected cricketer for Glamorgan, who:
Scored 17, 773 first-class runs – Glamorgan's 7th all-time top run scorer.
Hit Glamorgan's first one-day century, v Somerset in 1963, in the Gillette Cup.
Was one of only six Glamorgan players to score 2,000 runs in a season (2,026 in 1961).
Bernard's journey from his early days in Rhydyfelin – the eldest of eight children raised in a small council house – to the local grammar school, his National Service days, and to his professional career with Glamorgan is lovingly revealed by his son Stephen, who tells the story of the sporting life of a man who epitomised the 'unsung hero' by showing great grit and determination to make the most of the sporting talent he had.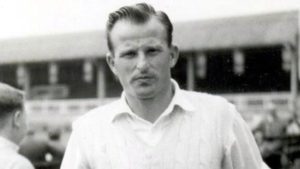 Bernard Hedges' Pontypridd RFC career
The earliest record of Bernard Hedges in a Ponty jersey was as a wing three quarter against Ebbw Vale on 19th April 1947, making his debut as a nineteen year old coming to the end of his time at Pontypridd Grammar School. Club records at the time were almost non-existent with only another two appearances registered that season.
There followed a gap until 19th February 1949, when Bernard reappeared playing at outside half against Abertillery. The reason was that Bernard was away on national service in the RAF, during which time he represented the Great Britain Air Training Corps at football and captained Wales ATC in rugby against England in 1946.
Bernard became a regular member of the Ponty side in the 1949-50 season, playing at his favourite full back position. However, he had signed for Glamorgan Cricket Club in 1950, and there were rumours going around at the time that he had been instructed by Glamorgan to give up playing rugby. Nevertheless, he was back on the field for Ponty the following season, playing through to February 1952 and earning a Welsh trial along the way. He then announced his retirement "for purely private reasons".
It was a short retirement as he was back playing at full back against the Civil Service on 20th September 1951 and totalling seventeen appearances that season. The game against Bridgend on 5th March 1952 was to prove his last one for Pontypridd for a few years. His career as a professional cricketer had now taken off in a big way, and it was inevitable that he had to devote all his time to the sport.
This time Bernard's second 'retirement' from rugby was a longer one, but on 19th November 1955 he was back! He played in the centre against Maesteg and went on to play fifteen games for the club that season. However, he was now opening batsman for Glamorgan, playing alongside the equally famous Gilbert Parkhouse, and it was inevitable that his rugby career would come to an end. He played his last game for Pontypridd, coincidentally against Ebbw Vale, on 6th April 1957.
Altogether Bernard played over 80 games for the club, and scored 50 points (3 tries, 10 conversions, 4 penalties, and 3 dropped goals). There are still some past players around, such as Dai Love and Graham Gittens, who played alongside Bernard, and they are full of praise for his skill in every sport that he turned his hand to. In fact, Graham surprised Bernard's son Stephen when he recently visited the club by telling him that his father was also a champion table tennis player!
There is no doubt that Bernard Hedges' fame as a Welsh sportsman was based much more on his prowess as a cricketer rather than as a rugby player, but there is also no doubt that under other circumstances he would probably have represented his country at rugby. Those of us of an older generation who watched him play as a cricketer would always point out to other spectators that "he played for Ponty you know". We will always remember with pride that he was a Ponty boy!
Alun Granfield